UCPath Reporting Security
UCPath Cognos reports delivered from UCI Decision Support portal.
To better meet UCI requirements, UCI-developed Cognos Report from UCPath data 
Run and deliver reports using Cognos Viewer on Zot!Portal
Security requests are made using KSAMS but the role naming convention and components of access are different for each reporting system. Therefore, it's important to know what components need to be requested for each system.
UCPath/Cognos Reports Security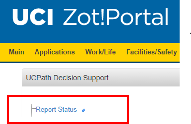 The UCI Decision Support Team (DSS) manages the publication of UCPathcustom reports. These reports have been developed based on UCI-specific requirements, which are often different than the requirements of other campuses in the UC system. The UCI UCPath Support team manages the changes, development and delivery of source data for these reports.
The DSS maintains an active status of reports that are available and the KSAMS security roles that will be needed.
The latest status of report availability is published on ZotPortal.
For Departmental Access, the following roles are needed:
DSS - General Report Viewer - HR Department [Designed for departments to access "general" reports via HR department (who they manage)] * REQUIRED
Additional roles for departmental access include:
DSS - Emergency Contact Report Viewer (Role designed for Dean's office level granting them access to the Emergency Contact Report)
DSS - Special Access Report Viewer [Designed for departments to access P3(secure/sensitive) data elements contained in the report]
Row Level Security
In Cognos reports as well, the row level determines the population that you have access to.
Hierarchy
Most reports are granted access by hierarchy. Reports can be KFS or HR, and some allow you to toggle between the two. If the reports don't have a toggle, access is granted by HR department.
Other
Some reports do not use hierarchy to grant access. These are reports that are either available to all employees with an active UCINetID, or reports that are for central units.
Granularity of Report
Granularity determines the level that the report goes down to.
Dept/Org
Most reports go down to the department/org level (you can see all activity that happens under that area). You will always see jobs within department (similar to UCPath access).
Employee
Some of our reports first go to the department level to see the employees that "belong" to the department, and then look for all information about that employee – only for "active/current" jobs within the department (once you no longer own an "active/current" job, you will not be able to see them in the Employee view). 
Current role listing
KSAMS Roles-UCPATH Namespace
DSS - Budget Office Report Viewer
DSS - Central HR Report Viewer
DSS - Emergency Contact Report Viewer
DSS - General Report Viewer - HR Department
DSS - Graduate Division Report Viewer
DSS - OEOD Report Viewer
DSS - Special Access Report Viewer
DSS - Summer Session Report Viewer
DSS - Parking Report Viewer